If over 38 games you accumulate more points than anyone else, then there can be no denying you are the best team in the country (paying attending fatty?). United only needed 37 games to prove their superiority over everyone else.
Whilst three points is still just three points, there were certain wins this season which meant a lot more than others, for various reasons. They sent out the right message, they built the confidence of the players and fans, or they were bloody enjoyable to watch.
I've managed to whittle down my favourite games of the season to just seven.
United 5 – 0 Stoke
We had proven to be the best team in England and Europe the season before, but it took us half way through November to dish out a battering. We had come close a couple of weeks previously against Hull when we went 4-1 up, but we conceded two late goals to make 4-3 and blew the goal difference we should have claimed.
Against Stoke we really showed what we were made of though, with Ronaldo, Carrick, Berbatov and Welbeck all getting their name on the scoresheet. It was Ronaldo's ninth league game of the season and his eigth league goal scored. Not too shabby for a lad returning from an op that kept him out for the first month of the season! After the abuse he received from the Stoke lot, who were more passionate about their hatred of our players than they were in support of their own, he certainly shut them up with his goals.
Welbeck's goal was the best of the game though, scoring from distance in front of the Stretford End. He was just the latest of a long line of youngsters who'd made their impression on the team. But he wouldn't be the last one to do so this season!
City 0 – 1 United
Last season we bossed the game at Wastelands, with Owen Hargreaves putting in a great debut performance, but we lost thanks to a deflected goal. This season we bossed the game again and left with three points. We even unfairly went down to ten men after the useless Howard Webb punished Cristiano Ronaldo for hearing a whistle that made him try to catch the ball instead of bury his free header in the back of the net.
Wayne Rooney scored the winning goal and celebrated like a red. After losing home and away to them last season, this was just the kind of result we needed, particularly given their new bragging rights following their status as The Richest Club In The World (TM).
After losing against Arsenal a couple of weeks earlier, we needed to get all the points in this game, which would have been regarded as a tough game beforehand. There was nothing difficult about this victory though, the balance was restored, and all was right with the World.
United 1 – 0 Sunderland
We played Sunderland off the park at Old Trafford, with the away team failing to have a single shot on or off target, but until injury time it looked as though we might have to settle for a point.
Then Nemanja Vidic, who has been robbed of the player awards this season, stepped up to score in injury time, to keep us in contention before our trip to Japan. There was an incredible sense of relief that we had got the result we deserved and put ourselves in the best position possible before leaving the country.
United 3 – 0 Chelsea
Giving Chelsea the guard of honour in our last home game of the season, in which we lost 3-1, was a fucking painful experience. The fans hurt but clearly the players did too and they made sure they wouldn't be in that position again.
Despite the power shift in United's favour since then, we still hadn't managed to get one over on them in the league. We'd beaten them at Old Trafford after they'd gone down to ten men and their manager had been sacked, but that wasn't enough.
The 3-0 battering was probably our best game of the whole season, with Vidic, Rooney and Berbatov wrapping up the points for us. We totally played them off the park, we humiliated John Terry, the fans had a great day out, and we showed why we were the Champions of England and Europe.
The fact that this game coincided with the weekend the FSW went loopy and Liverpool dropped points against Stoke was fairly pleasing too!
Bolton 0 – 1 United
The Reebok has been a stumbling block for United in the past and it almost proved to repeat its frustrating ways, before Dimitar Berbatov put us ahead in injury time. Jaaskelainen was on top form and it just looked like it was going to be one of those days when nothing would go in.
No Rio, Evra, Rafael or Wes, United were really stretched defensively. Anderson didn't seem to have it in him to rally the players, something he'd managed all too easily a season before, Scholes and Giggs were both sent on with twenty minutes to go, with the hope their experience could get us the points.
However, it was the combination of our strike force, without Wayne Rooney, that earnt us the points. Tevez crossed for Berbatov to head past the keeper though, securing United's place on top of the table for the first time during the season, a position we never surrendered after this match.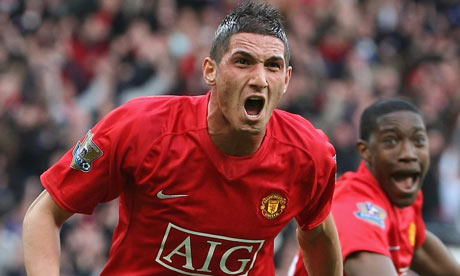 United 3 – 2 Villa
So often United have come back from the death that you always have that belief it's going to happen. It becomes a habit. Doesn't matter what the score or how much the odds are against us, there's this niggling bit of faith that they will turn it around. Equally, there's the voice telling you that there's no way this is going to be the day. There's no way we can get that lucky today.
Having lost our two previous league games and finding ourselves 2-1 down with half an hour to play, I found myself just praying for a draw, let alone a bloody win!
Cristiano Ronaldo made amends for giving the ball away for Villa's second, scoring the equaliser with ten minutes to go, and the roar of belief took over the ground. Maybe we really could get that lucky today.
When Sir Alex Ferguson made the brave decision to bring on Federico Macheda with half an hour to go and Danny Welbeck with three minutes to go, you had to wonder whether there really could be a fairytale ending. That morning on the blog I had questioned whether today was the day for Macheda, but there was no way of predicting what great things he was about to do for us.
Two minutes in to injury time, Macheda turned with the ball to face the goal and delivered an inch perfect finish, worthy of winning any game of football. Bedlum. Delight. Total joy. Probably my favourite moment of the season.
United 5 – 2 Spurs
Less than three weeks after our dramatic comeback against Villa, we found ourselves 2-0 at half time against Spurs. Fuck sake reds.
We hadn't even really been that bad but Spurs had put their chances away whilst our fullbacks looked totally out of their depth against Modric and Lennon.
Ferguson sent Tevez on straight after half-time, who joined Rooney, Berbatov and Ronaldo who had played the first 45 minutes. We meant business.
Michael Carrick won a penalty after Gomes clattered in to our player whilst taking the ball. The fuss this one decision brought about was incredible. If ever there was proof needed that we live in an ABU nation, it was shown in all its glory with the press reaction to this decision.
That was just the beginning though. Rooney scored the equalising goal ten minutes later, meaning we had 23 minutes to get this match won. We didn't need that long. Ronaldo put us 3-2 up just a minute later, ripping off his shirt and going just about as mental as the crowd. Three minutes later, Rooney added his second to make it 4-2, before Berbatov finished his former club off with 10 minutes remaining, the second goal he'd scored against them this season. 2-0 down at half time, 5-2 up at full-time. That's why we're champions!