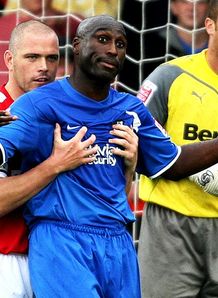 Arsenal fans will be reassuring themselves today that the manager knows what he is doing in bringing 35-year-old Sol Campbell back to the club. They reassured themselves of the same thing when Mikael Silvestre signed and we warned of his calamitous ways, although will likely side with United fans on that one now.
But Sol, who fucks over every club he ever joins, including Arsenal themselves in getting out of his contract for a supposed dream move abroad, only to sign for Portsmouth, is over the moon to be at Arsenal.
But didn't he want to be a United player before Sir Alex Ferguson laughed away the mere suggestion of it?
"There are still a few technicalities to iron out, but I have signed for Arsenal until the end of the season, and it's fantastic, great, marvellous," Sol said. "The old enthusiasm is back. I'm ecstatic really to be back at Arsenal, and I have worked bloody hard to get there."
But just last month, Campbell was pimping himself out for a move to United, which had been hinted about in the press during our injury crisis.
"I have heard nothing officially from Manchester United, but there have been suggestions and, of course, it would be a great move for me, if it happens," he said. "I shall just have to wait and see if a call comes through the right channels. Of course, I would love to play for Manchester United, but I am not counting any chickens, just waiting to see what happens. I am training as usual at Arsenal, and would go to train at Manchester United if I was asked."
Hmm. Sir Alex Ferguson quickly put him straight though, insisting that the rumour hadn't started with the club.
"Sol Campbell was a great player but he is not a player we are thinking about getting to come to United."
See, bringing in experienced players on the cheap can work well. Henrik Larsson and Laurent Blanc both did a job for us. However, when Larsson came, scoring in the league, Champions League and FA Cup, he had only just left Barcelona. The Spanish giants had tried to hold on to him after essentially winning Barca the European Cup against Arsenal, but he was ready to settle down back home and we got him on a short term loan just months later. Blanc had won Euro 2000 with France the season before we signed him, and had also just been voted Inter Milan's player of the season. Older players can do a job when they're at the top of their game, but the reason why Sir Alex Ferguson looked over Campbell is because he hasn't been at the top of his game for years, not since he left Arsenal, and certainly not since signing for Notts County and being out of contract for months, playing no competitive football.