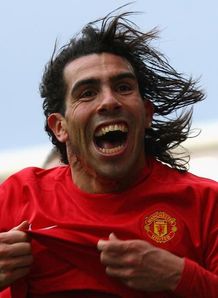 Whilst Manchester United always want to cling on to their best players, but when you have enough respect for someone, you have to respect their decision. At the end of the 1997 season when Eric Cantona decided to hang up his boots, whilst we desperately wanted him to stay, we couldn't begrudge wanting him to leave when he did.
Carlos Tevez has made no secret of the fact that he wants to return to Argentina at the end of his career, returning to his beloved club, Boca Juniors.
"I would like to play four or five more years in Europe," Tevez said back in January. "I would love this to happen at Manchester United and then go back to Argentina. I know I will finish my career at Boca. No doubt about it. I do not imagine myself retiring without winning one more title there."
It seems as though he's had a change of heart though.
"I cannot ever imagine leaving Manchester United," said Tevez. "I am in the perfect situation. My family is settled and very happy in England and my relationship with the club is perfect. Patrice Evra is my closest friend but the feeling I get from all the players is something I've not experienced before. I want to get the contract sorted and play for United for the rest of my career."
With most United fans believing that Cristiano Ronaldo will be heading for Real Madrid next summer, Sir Alex Ferguson spoke about the potential for the player to stay longer.
"As he gets older I think he will appreciate being here more and more," he said. "The longer people stay at this club you tend to not want to leave. Rio Ferdinand is an obvious example of that. But really I'm just pleased we have managed to put all this Real Madrid stuff to bed. They know what they are dealing with now."
I imagine all fans feel there is something special about their club, but of course, we're the only ones who are actually right. I jest, kind of, but undeniably there is going to be so much appeal about our club. To play in front of the biggest crowd in England, with the fans worshipping you, for a club with a magical history, and the potential to win something every season, is certainly going to bowl players over.
There aren't many clubs who cling on to players for as long as United do. That can't just be a coincidence. By and large, our players don't just love playing football, but they love playing football for Manchester United.
Fergie has built something special with our club which hopefully with his future involvement, along with that of Sir Bobby Charlton, Ole Gunnar Solskjaer, Bryan Robson, Brian McClair, and possibly the likes of Gary Neville and Ryan Giggs, will continue for a long time.
"Alex is very good with me and I really feel he loves me as a person," Tevez said. "He is always a gentleman in the changing room. He has a lot of money but is very modest. I like people like him."