With the Euros and Ronaldo speculation dominating the press at the moment, I thought it was about time we got back to living in the moment and enjoying the success of our season.
Only on three occasions in United's history have fans been able to say, "we are currently the Champions of Europe." With the expectations of our team so high, it might be easy to forget just how special what we achieved last season was.
So how about we put our opinions of the Ronaldo saga aside and just thoroughly enjoy the moment. We are the Champions of England and Europe, and long may it continue!
After winning the league title the previous season, hopes were high at the start of the 07/08 season. Our opening game was against Reading, where Wayne Rooney terrorised their defence. However, just before half time he was injured (going on to miss our next 6 matches) and United played out the second half without a striker on the field. We drew 0-0. What an anti-climax.
United draw the second game of the season 1-1, Scholes scoring a belter before Benjani cancelled it out in the second half. Ronaldo is sent off with 5 minutes to go, meaning he will miss the next 3 matches.
With time running out at the Wastelands, after City took the lead through a deflection in the first half, Tevez has the chance to become a United hero. However, whilst the away end started to celebrate what seemed certain to be Tevez's first goal from the club, he heads wide and United lose. 1 point from a possible 9.
In April 2007, Nani was linked with a move to Spurs, but he was none too pleased. "I don't know where Tottenham fans get their stories, but I haven't heard anything," he said. "But why would Tottenham want to sign me anyway? I'm not interested in going to a club that cannot qualify for the Champions League. If I wanted to play in the UEFA cup I would have to go to a smaller club than Lisbon. Tottenham are not a big club. They are just wasting their time."
To rub salt in the wounds, Nani signs for United and scores a belter against Spurs, clocking up our first win of the season.
Our first European game finishes 1-0, Ronaldo scoring against his former team, Sporting Lisbon, in Portugal.
After a rusty start to the season following a summer without football, Carlos Tevez scores his first United goal in a 2-0 win over Chelsea.
United go top of the table for the first time of the season after beating Wigan 4-0 at home. This was the first of four consecutive games which we won by scoring 4 goals.
A late equaliser from William Gallas sees United pick up just one point at the Emirates. Arsenal celebrate the draw at home against United like they've just won the league.
Bolton beat us 1-0 at the Reebok, Nicolas Anelka scoring the only goal of the game. Little did we know then what impact Anelka would later have on our season.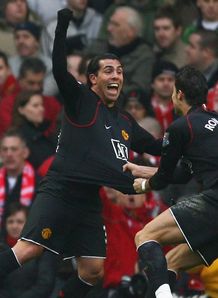 Carlos Tevez scores in a 1-0 victory over the dippers at Anfield.
Ronaldo misses a penalty that would have put us 2-0 up at Upton Park. We go on to lose 2-1.
Ronaldo scores the first hat-trick of his United career in a 6-0 win over Newcastle.
Tevez scores a last minute equaliser at White Hart Lane to earn us a point, but we slip to second in the league.
On the match which marked the 50 year anniversary since the Munich Air Disaster, United lose 2-1 to City. The lowest point of the whole season by far.
United knock Arsenal out of the Cup and Nani plays keepy-uppy to the disgust of Arsenal. "You don't want to be teased or humiliated," Wenger said after the game, although it is unclear whether he was referring to Nani or the embarrassing 4-0 scoreline.
We beat Newcastle 5-1 at St James Park on the day Arsenal draw 2-2 with Birmingham. Advantage United.
United are out of the Cup after losing 1-0 to Portsmouth at home. Kuszczak got sent off and gave away a penalty, leaving Rio Ferdinand in goal, and United wonder what might have been had the stonewall penalty been awarded to Ronaldo in the opening minutes of the game.
United beat the dippers 3-0 at Old Trafford with goals from Brown, Ronaldo and Nani.
We're one step closer to the European Cup semi-finals after beating Roma 2-0 away.
After going a goal down at home to Arsenal, courtesy of an Adebayor handball, a penalty from Ronaldo and freekick from Hargreaves gives United the win and ends Arsenal's season.
Tevez scores a late equaliser against Blackburn to ensure we have a three point advantage over Chelsea with three games left to play.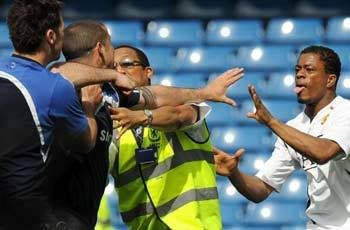 United lose to Chelsea after a late penalty, meaning the title could be decided on goal difference in a fortnight. After the game, it kicks off between Evra and the Chelsea groundstaff, with claims of racism.
After missing our last European Cup final through suspension, Scholes scores the goal that puts us in the final this season, in a brilliant night at Old Trafford.
After throwing a spanner in the works for United's title campaign in the past, West Ham are beaten 4-1 in our last home game of the season.
Giggs scores the goal against Wigan that rids us of any doubt over where the Premiership trophy will be staying for another year.
Champions of England again. Our 10th title in 16 years.
Ronaldo scores the opener in the European Cup final against Chelsea
Van der Sar saves Anelka's penalty to give us a win over Chelsea in the final.
Champions of Europe again.




------------
The RoM Manchester United 2022-23 season preview is now available for just £6. It includes exclusive interviews with Patrice Evra and Kleberson, articles from the country's best football writers about our expectations for the season ahead and our brightest talents, as well as proposed transfer business and which youth players to keep an eye out for. All profit goes to Trafford Macmillan so please support this fantastic cause.