Whilst we have confirmed that Cristiano Ronaldo is staying next season, we still could do with a new striker for the start of the season, to take the pressure off our limited forward positions. With Frazier Campbell currently looking good to be in the starting team against Newcastle, it is clear United don't have the depth they would like up front.
"We are looking at three or four different options in the striking department which I hope will come to a happy conclusion," said Ferguson. "Hopefully we will have someone in for the start of the season."
Klaas-Jan Huntelaar
RoM reported on this Dutch talent last month, following a good couple of years of interest in the player. He seems to be someone reds always mention when asked about ideal signings. What are the chances of securing his signature before the start of the season?
Asked if he thought his future may lie in the Premier League, the player said: "I don't know, we'll see." But the 24-year-old did confirm that he may play abroad in the future, saying: "Of course – everybody wants to play at the highest level. I want to play also at the highest level but at this time I am in Ajax so I will see what is happening."
When asked if Ajax had received any bids for Huntelaar, Van Basten said: "No, and I hope that we don't receive them."
"We really don't want him to leave and we are going to do everything we can to make sure he doesn't," said Van der Aat.
"I love clubs with great history like Ajax, I also love United," Huntelaar said. "It's a club that makes me dream, especially as Ruud van Nistelrooy played there and did great things with them. I know certain English clubs are following me, like Manchester United, who are very interested in me."
"When you look at the Ajax salary structure he could get a huge deal," said Ajax's technical director. "But he doesn't want to see a release clause set at 25million euros (£19.75million) in his contract. We didn't want to go any lower."
Dimitar Berbatov
Here is a player who we have been linked with for some time, following his decision to sign for Spurs instead of waiting for an offer from United. Last season I asked whether he was a player we wanted, with the general response being positive.
However, the situation has turned sour since Spurs decided to report us to the Premier League for tapping him up.
"Nobody from Barca has asked me about Berbatov," said Spurs' manager Ramos. "There has been no movement on that front. All I know is what I read in the papers. We will have to wait and see what happens. It is a question of waiting a bit more and then we will see how things turn out."
"Today's public comments by Manchester United's manager, announcing that he has made an offer for Dimitar and is confident that the deal will go through with time working in their favour, is a blatant example of sheer arrogance and interference with one of our players," said Daniel Levy. "This comes after a series of events, dating back to last summer, which have shown Manchester United to be in breach of Premier League (PL) rules. As a result, we have today made an official complaint to the PL about the conduct of Manchester United."
"We will see what happens there, but we are talking about two very important players," said Ramos, of Berbatov and Keane. "For the moment they are with us, but whatever happens the idea is to have a great squad, with the potential to allow us to aim to improve on what we managed last season. We have to be realistic and see what we are starting with and who we are competing against. There are some big clubs who have spent a lot of money over many years and have a certain advantage, in fact they claim they want to sign some of our players. At Tottenham, we have had a clear philosophy regarding buying and selling for years. The idea is signing young players, promising and talented ones, and if important offers for older players are made, studying it to see what is the best for the club."
"I know for certain Manchester United have shown interest in signing Dimitar Berbatov," said Berbatov's agent. "But I'm not entitled to make any more comments."
"We know the situation of Berbatov and we are calm about it," said Ramos. "If a team comes along and pays the asking price the chairman wants then possibly yes, but we're delighted to have him here."
Roque Santa Cruz
Following a brilliant debut season with Blackburn Rovers, Santa Cruz, who was a bargain signing for former manager Mark Hughes, has got a lot of people talking.
A couple of months ago I questioned whether his injury problems of the past would put Fergie off putting in a bid.
"We are trying to understand what the new manager wants and is trying to bring to the team," said Santa Cruz. "It will be an interesting season after the moves going on here. We need to prove we can continue without some players who were key last season."
"A lot of people said my transfer to a bigger club was about to happen, but I live in the present and I'm focused on Blackburn," said Santa Cruz.
"If he [Fergie] comes on asking about Santa Cruz then I'll just tell him he's not having him," said Paul Ince.
"The interest from Manchester United is real but I'm busy now so my representatives will handle anything if there is a concrete offer," said Santa Cruz.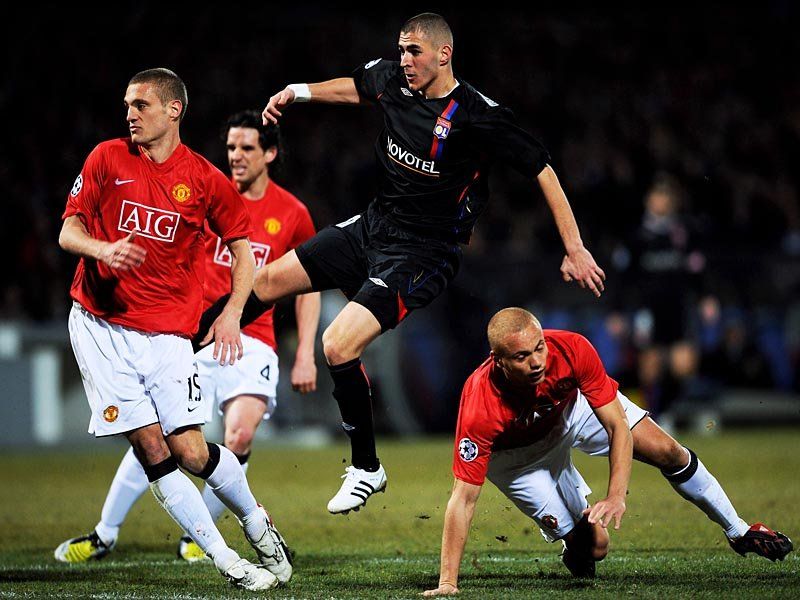 Karim Benzema
"With €40m (£31.7m) or €50m (£39.7m) we would sell Benzema's ear," said Lyon president, Aulas. "It is not a question of money. The player wants to achieve something big in the Champions League with Lyon. He is happy at the club and this can be seen with his latest contract renewal. I am sure that he will stay with Lyon until the 2010 World Cup finals."
"He is not going to leave Lyon," the player's agent said. "I know that there are a lot of interested clubs, but he is still young and wants to stay and gain more experience. Next season he will continue to play for Lyon and then we shall see."
"In recent months my name has been linked to Barcelona, Real Madrid, Juventus and now Manchester United have appeared," said Benzema. "That is high praise and I'm sure I'd be able to play in England. But I believe my style is perhaps better suited for Spain or Italy."
"Great strikers score great goals," Ferguson said of Benzema's goal against us. "That was a great goal, nothing you can do about it."
"Milan makes me dream," said Benzema. "Also because Ronaldo is there – he's my idol. He's from another planet. But I also love Juventus, Inter and Manchester United – the big clubs. What's important is to win. I would leave Lyon only to continue to win and when I also feel ready mentally."
Which of these four strikers would you most like to see at United? Or do you think there is another striker Fergie has his eye on?