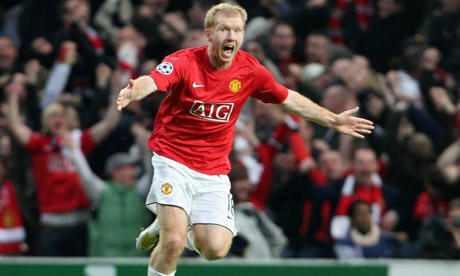 In terms of the effect they have on the team overall, I'd say Wayne Rooney and Paul Scholes are the most influential players United have. Their creativity outshines what any of our other players have on show, seeing passes and movement with ease, and having the ability to then follow through with the required ball.

United have yet to reach top gear yet this season, picking up points and getting the results, but have struggled at times. Fortunately, it appears as though our rivals aren't the smooth-running machines the press made them out to be, meaning we're in a very comfortable position at this stage in the season.

However, with Paul Scholes back in the team, after missing two months of football following surgery, will United finally click and play the way we've been expecting them to?

Coincidentally, Scholes' last game was the away trip to Aalborg at the end of September, where he was subbed off with just 15 minutes played.

Since surgery on his injured knee, Scholes has turned 34-years-old and signed another one year contract extension. Time is working against him and questions were asked whether he would be able to, yet again, return to the first team after such a lengthy period out. The fact that Michael Carrick and Darren Fletcher are both having brilliant seasons so far only worked against him.

Yet when Scholes was playing last night, it was if he had never been away. His passing was spot on, spraying balls all over the pitch to players on the attack. Inch perfect 30-40 yard balls, he's immense. He has vision that no one can match and although the likes of Carrick or Rooney can attempt to fill his shoes, they're not there yet.

He's got our trip to Japan to get his fitness up, slotting back in to the team again, developing the links between himself and front men, so come the new year, he should be up to scratch entirely.

Keep Scholesy fit and we win the league. If he gets injured again, I still believe we'll win the league (surprisingly, eh?!) but it will be a lot more difficult. He can make us tick, he can be the final piece of the puzzle, and all the question marks over our players and formation will be answered.




------------
The RoM Manchester United 2022-23 season preview is now available for just £6. It includes exclusive interviews with Patrice Evra and Kleberson, articles from the country's best football writers about our expectations for the season ahead and our brightest talents, as well as proposed transfer business and which youth players to keep an eye out for. All profit goes to Trafford Macmillan so please support this fantastic cause.