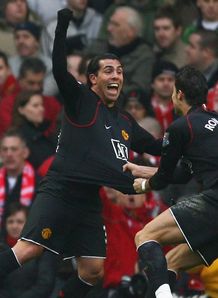 Earlier this week, I wrote an article about whether Liverpool or United had got the better deal where Tevez and Torres were concerned. Whilst there is no doubting Torres is a quality player, Tevez looks more like the United player, and the partnership he is in the midst of forming with Rooney has only boosted his reputation with our fans.
Ahead of today's match against the dippers, a lot of the talk centred around Torres. Carlos Queiroz acknowledged that if we could keep Torres quiet, we could win the game. Ferguson was asked time and again about the Liverpool striker. He was tipped to be the man to watch in the game and it was questioned whether Ferdinand and Wes Brown could handle him.
On the half hour mark, Torres had the perfect opportunity to steal the headlines. Van der Sar was guilty of making his first of three massive errors, gifting Torres the chance to head in to the empty net. Yet somehow the Spanish striker managed to head wide.
Fifteen minutes later, Tevez is tearing away from the goalmouth after putting United one nil ahead. A well worked corner, which saw Wayne Rooney set up Tevez with a simple tap in, gave United the only goal of the game.
Whilst Liverpool dominated play in the second half, I don't have much memory of Torres being on the field (and some of that might be thanks to the vast amounts of alcohol consumed!). The man we were told to fear contributed nothing, other than the sitter he missed.
Get in United. Tevez 1 Torres 0.
Have you changed your mind on the Tevez/Torres debate?