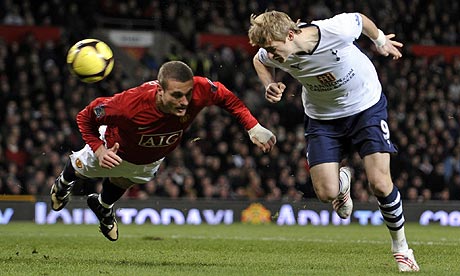 First it was Teddy Sheringham, then it was Michael Carrick and most recently it was Dimitar Berbatov. Spurs have done well in transfer fees from our club and whilst that prick Daniel Levy rubs his hands at all the cash he's bringing in for his latest manager to waste, the fans are none too pleased about losing some of their best players.
Their misery may continue though, with their new striker, Roman Pavlyuchenko, claiming he dreams of joining us too!
When asked whether he would like to play for United, Pavlyuchenko responded, "it would be wrong not to dream about this." Hmm, clearly the fella isn't the brightest spark, considering the feelings of Spurs' fans towards the last player who dreamt of playing for us.
"I have realised that the English Premier League is exactly why you should start playing football in the first place," Pavlyuchenko continued. "And Manchester United is the leader of it. Once your first dream comes true you must start dreaming of another target."
Still, to ensure he doesn't completely lose the Spurs fans' support, he has a dig about their public enemy number one, Dimitar Berbatov.
"Robbie Keane returned to the Spurs as if he never left the club," he added. "It's evident that he's a man of authority inside the team which is good for us. He was always liked as far as I can judge. If Berbatov returned it would be taken quite differently. I heard tales that he was an arrogant snob who after a training session would just throw his dirty boots to the man who takes care of our footwear saying: 'Clean them for me!'. No one likes such people. Still he's now playing for Manchester United."
I have it on good authority that those at Carrington were warned by Spurs' representatives about Berbatov's mood swings when the deal was going through. He was reluctant to do the signings, he didn't have a good relationship with a lot of the staff, he was mardy. No doubt workers at Carrington have been given the same warnings before, so whilst knew what they were up against, were not looking forward to the arrival of Berbatov.
However, since joining United, Berbatov's behaviour has been exemplary. Whilst the likes of Cristiano Ronaldo always try to duck out of the signing sessions for charity or respond to fan mail, Berbatov has been as keen as any to put in his shift signing photographs and footballs. Whilst being a bit of a loner to start with, his manner with all the staff has been pleasant and considerate, and there certainly have been no temper tantrums.
Berbatov behaved like a bitch at Spurs. He probably did all the things he was reported as doing. Why? Because he'd played Champions League football in the past and he was approaching 30 and wanted to play it again. Spurs told him upon signing they'd be a top four club, but increasingly looked more likely to be relegated that get a place in the European Cup. He told them he wanted to leave, they said no. So he stayed on and scored 23 goals. He told them he wanted to leave again, they said no again.
Does that make it OK that he threw his dummy out? Course not. He was under contract. But is it understandable that a player who is wanted by the English and European Champions is not going to be best pleased and being told he has to remain with the 11th best team in England? Is it understandable he's not going to Mr Happy-Go-Lucky at training?
Ol Pav can call Berbatov an arrogant snob all he likes, but in a year or two, when he wants his dream realised (although he will be disappointed if United are the club he fancies), he could be behaving in exactly the same way.
Modern footballers eh?