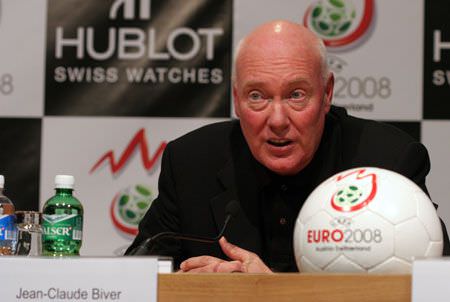 Ahead of United's Wednesday night match against West Ham, along with the prizes being handed out to Cristiano Ronaldo and Rio Ferdinand, a new sponsor was announced.
Saudi Telecom, Budweiser, and Seoul Metropolitan Government have already joined our long list of sponsors this season, and now Swiss watch manufacturers, Hublot, have joined them, reportedly paying £4 million to have their brand linked with our club.
Congratulations to David Gill who somehow managed to connect a watch company with United, referring to Ferguson's liking of time management.
"We are delighted to welcome such a prestigious partner as Hublot to the Manchester United family," Gill has since said. "Their reputation for excellence and innovation makes them a fitting and exciting sponsor for the club. Sir Alex is known as a stickler for timekeeping, both on and off the pitch, now we have a partner that shares his passion."
Whilst in these times of Glazer we have to be grateful for every bit of dosh we make, it seems as though this lot at Hublot are actually pretty decent people, as well as generous with their cash.
Hublot's chief executive Jean-Claude Biver has revealed how the advertising space he paid for during Euro 2008, which set him back a fair few quid, was given to the anti-racism campaigns.
"My dream is for one match at Euro 2012 to be free of advertising and just have the 'Say No to Racism' message around the field," Biver said. "We want to educate people against the perils of racism. But it cannot just be us. It has to be the major companies as well. When I told Uefa what I would be doing with the space at Euro 2008, Michel Platini said, 'Are you mad? It is what you have paid for'. But this is something I care passionately about."
Not only are they fighting racism, they are also donating money to the Manchester United Foundation with every watch in their Big Bang range that is sold. They are also in the process of making a special United themed watch, with a 45 minute counter to time the halves.