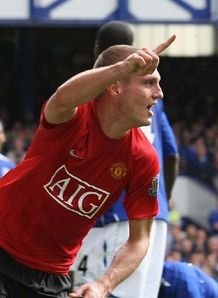 Nemanja Vidic has won over the fan's heart with his battling nature and brave commitment to the cause. His name is sung week in week out and he has quickly established himself as one of the greatest defenders we've ever had at the club.
Less than two years in to his current deal, United have offered him an improved contract for a further four years, seeing him earn £50,000 a week.
Ahead of United's trip to Birmingham, plenty of comparisons have been made between the Serbian defender and United's former captain and current Brum boss, Steve Bruce. Gary Pallister was the latest to make the comparison is yesterday's Evening News.
Ferguson's has boasted to the press this morning on his brilliant £7 million find, saying, "the quality Nemanja has is that he is so brave. He is a great defender and he's a real threat up front as well. He can play too but, importantly, he doesn't mess about at the back. He is prepared to put his head in and that always makes him a threat up front. He can easily get 10 this season."
Following his late winner against Everton a fortnight ago, Vidic has confessed he is up for bagging a lot more goals for the club. "I plan to score lots of goals this year," he said. "If they come of my head, my feet or stomach, I don't mind. I want to help the team win more matches. I understand there is a lot of concentration on our attacking players. But you have to defend to win football matches. Myself and Rio have a great understanding and I think it is getting better. We aim to get as many clean sheets as we can."

He'll Fuckin Murder You at RoM.org's Shop