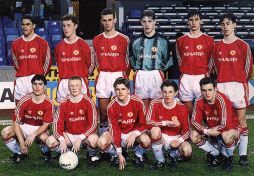 Since "Fergie's Fledglings" because the biggest thing since the "Busby Babes", the pressure has been on the Manchester United academy to produce excellent talent.
When looking at the squads of our rivals, it's bizarre that United's academy is sometimes viewed as a bit of a failure. As if being unable to bring through a group of players like we did in 1995 means our academy isn't good enough. We're no West Ham but we certainly fair well in comparison to the other clubs in the top four.
Jamie Carragher emerged from his youth team in 1996. John Terry and Steven Gerrard did in 1998. Ashley Cole was the latest established player to come from the Arsenal academy (by this, I mean they joined the Arsenal academy as a kid… not poached by the Arsenal academy after making a name for themselves in the youth scene elsewhere. Cesc Fabregas, Gael Clichy, Kieran Gibbs etc. all came from other clubs) but he isn't there anymore.
In this time United have produced three first team players in Wes Brown, Darren Fletcher and John O'Shea who have close to 900 appearances between them. However, producing players for our first team isn't the only successful element of our academy.
Red Rants looked at the purpose of academy this week and it's interesting to see the positives it has brought us.
Whilst rival fans have a lot to say about the money we spend, it shouldn't be ignored just how much money our academy brings in. Just looking at the past few years
Sales from the academy players between 2005-2009
Giuseppe Rossi to Villarreal – £6.6m
Frazier Campbell to Sunderland – £6m
Kierian Richardson to Sunderland – £5.5m
Gerard Pique to Barcelona – £5m
Phil Neville to Everton – £3.5m
Lee Martin to Ipswich – £2m
Phil Bardsley to Sunderland – £2m
Chris Eagles to Burnley – £1.25m
Ryan Shawcross to Stoke – £1m
David Jones to Derby – £1m
Jonathan Spector to West Ham £0.5m
Sylvan Ebanks-Blake to Plymouth – £0.2m (we were robbed!)
Richard Eckersley to Burnley – £0.5m expected (compensation yet to be decided)
(Danny Simpson likely to be sold for around £2m this summer)
Total: £35.05m (£37.05)
This money has paid for Antonio Valencia, Edwin Van der Sar, Nemanja Vidic, Patrice Evra and Ji-Sung Park, with money left over.
Whilst we've reinvested a minimal amount of money in pinching talents like the da Silvas, Possebon and Macheda, we continually produce our own good quality players.
Jonny Evans made 34 appearances for the club last season, playing against Arsenal and City in the league and both Chelsea games, as well as against Inter Milan and Arsenal in the European Cup. Danny Welbeck made 13 appearances including the FA Cup semi-final and scored three goals. Darron Gibson made 14 appearances last season and scored three goals from the midfield, including that blinder on the final day of the season.
Sylvan Ebanks-Blake, David Healy, Danny Higginbotham, Kieran Richardson, Chris Eagles, Richard Eckersley and David Jones, amongst others, are recent former academy players, unearthed by United, who will be playing Premiership football next season. Which other top four club academy can boast anything like that?
Whilst it's always great to see young players come through the system it isn't something that can be guaranteed. Just because a player looks full of potential when they're 16-years-old, it doesn't mean they're going to be able to do it on the big stage when they're in their 20s. So, if we can make a stack of money from selling them to a clubs that better suit their ability, then it should only be seen as a positive thing.
We have produced more first team players than our rivals and we've made loads more money than they have from selling academy players on. Of course we'd like to see even more players come through but in an age where football seems to be entirely based on how much money a club has and how many foreigners they buy, it's good to know that Manchester United can still do things the old fashioned way… which is more than can be said of Liverpool, Chelsea and Arsenal!