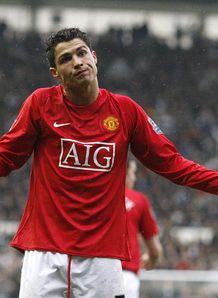 We finally got the clarification we were looking for on Ronaldo's future last week, following a summer of comments of intent from Real Madrid and Manchester United, as well as vague messages from the player. He is staying.
Now, there's plenty of time to reflect on our opinions of Ronaldo over the coming season. We've spent the past couple of months brewing with frustration, just wanting to know one way or the other what was going to happen. The anger and resentment fans have been feeling over being left out in the dark doesn't just disappear because Ronaldo says he wants to stick around, however, now that we know he is definitely staying, it doesn't hurt to see things from his point of view, whether we agree with him or not.
When reading over Ronaldo's interview with Publico, I was drawn in when he was talking about his 'dream'. His most overused words in the summer certainly have been his 'dream' and what 'God knows'. So, can we forgive Ronaldo for his dream?
Since Ronaldo joined us in the summer of 2003, we have known the likelihood was he would one day leave us for Spain, whether that be Real Madrid or Barcelona if he fulfilled his potential, or a more average Spanish side if he didn't. Taking in to consideration his Iberian roots, it just makes sense.
In the interview last week, Ronaldo was asked how he felt about the angry reaction he might receive from the fans when he returns. Whilst saying he hoped he wasn't booed by us, he was keen to explain his behaviour over the summer.
"People have to understand one thing: at the age of eighteen I arrived at a dream club like Manchester United," he said. "It was a dream come true. But, even at that moment, I was thinking about playing in England for some years and then going to play in Spain. Even at that time I was thinking that way, and I always gave 100% everything."
Now, just imagine for a moment you're a young up-and-coming footballer. Imagine you make your break to the big time with Real Madrid. The fans love you, you are shit hot on the pitch, you can get all the birds you want, meaning pretty much, your life is perfect. Then you score 42 goals in 47 games one season, with Real Madrid winning La Liga, as well as scoring their only goal in the European Cup final against Villarreal. You lift the trophy and all the (bitter) fans of other clubs in Spain claim that you are the sole reason for Real Madrid's success. Most people are claiming you're actually the best player in the World.
You have soaked up every ounce of the limelight and the praise, you love playing in front of the thousands of adoring fans at the Bernabeu, you've got the pictures of you lifting the European Cup framed and above the mantelpiece at your mam's in Manchester, but there's this nagging feeling. You want to be a Manchester United player. When you first started kicking the ball around as a young lad, scoring goals between the two jumpers put down as posts on the field, you were doing it imagining you were celebrating in front of the Stretford End.
So, on a daily basis, you hear Manchester United players and representatives saying how great you are and how they want you to come and play for United. Sometimes, they even say that it would be an honour if you went to play for them. Holy fucking shit, are you dreaming? United would be honoured if you were paid ridiculous sums of money to play football for them.
Now, what do you do? You don't want to piss Real Madrid off, because they've been pretty decent to you over the past few years, but you also don't want United to think you don't want to know. Your boss goes on holiday and you don't really know what's going on. Would it be unreasonable to admit to the press that you dream of playing for United, but that you'll still be happy and motivated to play for Real Madrid?
"Why lie? I'm not going to be a hypocrite and say the opposite of what I think, like some others do," continued Ronaldo. "I said exactly what I thought: I have a dream of playing at Real and I thought it was time to move on. People can't be upset about me fulfilling a childhood dream."
United fans wanted to know one way or the other, was he leaving or was he staying, but quite simply, Ronaldo didn't have an answer. He had limited options.
1. Stay completely quiet on the matter, revealing nothing to the press. However, this wouldn't have satisfied us, because we wanted to know what was going on.
2. Categorically state that he wanted to play for Real Madrid next season and do whatever he could to ensure that happened. However, this isn't what he wanted. He one day wanted to play in Real, but wasn't hell-bent on leaving this summer.
3. Categorically state that he wanted to stay at United next season and Real Madrid should stop wasting their time. However, whilst the club put on a brave face with the media, claiming the player was not for sale, Ronaldo did not know what United's intentions were. Don't forget, David Beckham also 'wasn't for sale' in the weeks leading up to his departure to Real!
So what did Ronaldo do instead? He spoke of what he one day dreamed of achieving, whilst not committing himself too strongly either way. As soon as he was able to resolve the situation with the club he had a contract with, he came out and confirmed that he was staying.
Whilst I have been frustrated with this whole saga, mainly because it has taken attention away from the praise we deserved as a club following last season, to get upset with Ronaldo following the events of the summer is fairly naive. We have been told since day one that he would one day leave us for Spain, but how did we envisage that happening?
If when Ronaldo was 18-years-old someone told me in 5 years time we would have to sell him, but only after he scored 42 goals in a season, including one in the European Cup final, which we would go on to win, I would bite their hand off. Wouldn't we all? However, now we're in that situation, we want more and more from him. That is fair enough and I'm not being critical of fans who are angry with Ronaldo, but I do have a sense that we should be grateful for what we've got, things which Ronaldo helped us achieve.
I am also grateful for Ronaldo's honesty. We haven't been duped like some fans have by their idols. Ronaldo confessions this summer of it being his dream to play for Real Madrid shouldn't have come as a surprise to us.
Now, this isn't me kissing Ronaldo's arse or trying to gloss over my feelings of frustration of the summer. He really brought to life how playing for the club we love isn't as good as it gets for him, and whilst we may have always been aware of that, we haven't been forced to recognise it in the way we were this summer. The players we love are typically the players who love playing for United and now Ronaldo has made it perfectly clear that he doesn't love our club in the way we want him to, then it does bring about distance between him and the fans. We will never be able to have the relationship with him that we have with the likes of Eric Cantona and Ole Gunnar Solskjaer who weren't brought up loving United, but who ended up falling head over heels for it. I have no doubt that unlike last season, where Ronaldo was given the majority of our attention, it'll be players like Rooney, Tevez and Anderson who get the majority of our songs.
However, once you can accept Ronaldo for what he is, then you can resolve your feelings of frustration and anger. Let's take one more year of Ronaldo, after being victorious in our battle against Real Madrid, hoping he will score as many goals as possible and help us win as many trophies as we can, then say goodbye.
"I'll be playing at Manchester United with my heart and soul," said Ronaldo. "I will fight and honour the shirt with the same desire and dedication as I always have."
That is all I expect him to do.