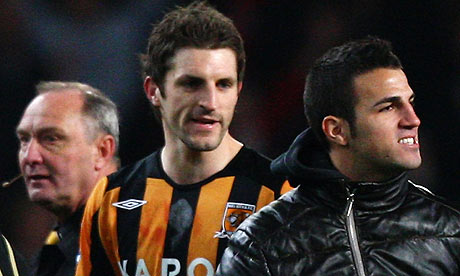 The FA stitched us up over Patrice Evra's ban: Despite studying the CCTV footage, there was no proof he punched the Chelsea groundsman. They saw the Chelsea groundsman go for Evra on the footage but there was nothing to show Evra throwing a punch, the FA admitted in their report, yet they still punished him as though he did.
The DVD evidence does not itself show whether or not Evra actually struck Bethell. Evra denies it but we accept Bethell's evidence that he was struck on or near his right ear and it was clearly Evra who struck him. We note that Evra is right-handed but do not see that as a reason to reject that conclusion.
FA let Bosingwa off: In contrast, the cameras of the World saw Jose Bosingwa kick Yossi Benayoun in the back. The FA do nothing. 
Evra Ban Is Ridiculous… With Arsenal Fan Behind It: The general feeling was Evra's punishment was absolutely ridiculous. The tussle took place away from the eyes of the media and there was no proof Evra threw the punch he was punished for. When you consider Bosingwa go no punishment and Didier Drogba only got a three match ban for throwing coins at a crowd containing women and children, it's absolutely insane Evra was banned for four matches.
It seems less insane when you learn the man dishing out the punishments is a season-ticket holder at the Emirates.
And he SPITS does Fabregas: Phil Brown claims Cesc Fabregas spat at his assistant, Brian Horton, after Hull's defeat at the hands of Arsenal. Fabregas responds by saying he would never do that. Then the footage of him spitting in Michael Ballack's face is dug up and Arsenal fans claim Ballack had previously come out and spoke of Fabregas' innocence. A few dozen Arsenal fans told me that on the blog yet none of them could supply me with the quotes or any link to support their claim.
The FA have reviewed video evidence and charged Fabregas, firstly for his aggressive behaviour when he came on to the pitch at the final whistle and secondly for spitting at Horton.
Now doesn't this put Arsenal supporting Nicholas Stewart QC in an awkward position. There was no video evidence of Evra punching groundsman Sam Bethell yet they took the rentboy's word for it. Clearly there is video evidence of Fabregas doing something he shouldn't be so what's the conclusion going to be?
I'm having a laugh if I think of one second Fabregas will be punished anywhere near as harshly as Evra!