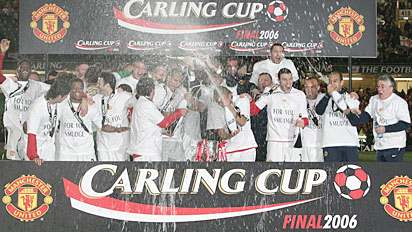 When Manchester United won the Carling Cup in 2006, it was met with a lot of criticism. The competition we had long dubbed the Worthless Cup (after Worthington were the sponsors) was now the only trophy in our cabinet. "Oh, it's good enough for you now?" people sniped.
If anyone cares to look at the stats, since the early 90s, Manchester United have played in more League Cup finals than any of the other top four teams. Has it ever been our first priority? No. Will it ever? No. When we won it in 2006 did we suddenly change our mind and say it was a great cup to win? No. Am I gutted we got booted out in the first round last night? No.
If our youngsters had a good run in the competition, that would have been great. Arsenal's youngsters achieved great things in the League Cup last season, and it would have been lovely to emulate that success, but it wasn't to be. Our mish mash team, of youngsters, new signings, and players trying to get match fit, just looked second class. Coventry were deserved winners, as Ferguson said in his post match interview, and we can have no complaints.
In 2006, we weren't good enough to win the league, we got dumped out of the FA Cup by Liverpool at Anfield, and didn't get past the group stages in Europe. Yes, back then, the League Cup would have to make do. I'd rather win it than not win it, or not win a thing, and back then, we needed something after our least successful season in donkeys years the season before, when we finshed third and won nothing.
We have bigger fish to fry this season, however, as Champions of England and reaching the semis of the European Cup. If come the end of the season we win nothing, then maybe there would be some regret after underestimating Coventry and overestimating our second string so wildly. But essentially, we're playing with the big boys this season. We want to win our title again, and we want to win the European Cup. The League Cup serves as a distraction from these two goals, and the consolation would not be great enough. To go from League Champions to League Cup winners is certainly not something I'd like to see.
I'm sure they'll be plenty of stick dished out over the next week or so, about United's arrogance or disrespect of a cup they relied on just the season before last. But stick is something we're used to, and I won't be losing any sleep over that, or over knowing we won't be the winners of the League Cup this season.
So onwards and upwards. We've got a difficult week ahead, with an away trip to play Bruce's lads at the weekend, then a home tie against Roma and their band of Ultra thugs midweek. The sooner we forget about the League Cup, and focus on what we really want, the better.
We'll Never Die.