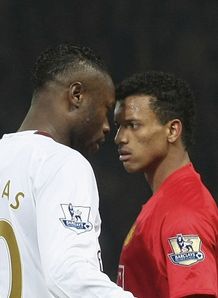 Saturday was a great day for United fans, who less than a week before had to endure the woeful performance our lads put on for derby day. To witness four goals from our team is always an enjoyable experience, but for them to come against title rivals and old foes Arsenal is even better.
Whilst United made the headlines for all the right reasons the following day, with cooing reports over the silky football we played, Arsenal were gaining attention for all the wrong reasons. Not only had they put on such a toothless display, allowing themselves to be completely dominated by United, but they were dirty little bastards with it. Eboue walked for his disgraceful 'challenge' on Evra, where he put all his effort in attempted castration more than any desire to win the ball, but he wasn't the only player who should have seen red.
William Gallas petulantly kicked out at Nani, who took the piss out of Arsenal all evening, long after the ball had gone. The young Portuguese star turned to confront the Arsenal captain and was booked for doing so, whilst no action was taken on Gallas.
Flamini and Gilberto also took swipes at Nani because he had dared to exhibit his wondrous skill. Is it the unwritten rule that only Arsenal are allowed to play beautiful, winning football? If any other team attempts to do so they will fall victim to Arsenal's thuggery and pizza throwing? It was truly pathetic behaviour from Arsenal's more experienced players.
Ferguson spoke of the Gallas kick after the match, saying, "I thought Gallas should have been sent off. The referee must have a look at that again. He kicked Nani from behind and the referee called both over because they sized each other up. He should have been red-carded."
The referee has had another look at the challenge but has decided that no further action should be taken. Apparently, it's perfectly acceptable for the Arsenal captain to intentionally kick another player. "Having viewed the footage, the referee was not satisfied that it showed evidence of violent conduct and therefore no further action will be taken," an FA spokesperson said today. Is this serious? What kind of message is this sending out? If a player embarrasses you with their great skill, it is acceptable to kick them? This encourages thuggery and discourages players to show their flair. Why should a player play entertaining football that irks the opposition if the FA claim it is acceptable for the opposition to kick that player?
If Wayne Rooney had kicked out at Cesc Fabregas, for example, would the same action been taken? Would it be alright for Rooney to kick a player when the ball was nowhere to be seen just because he got wound up?
Spineless behaviour from the FA, yet again, which really suggests Arsenal can behave in whatever manner they see fit, including attacking players who humiliate them with their skill.